Raised bed gardening is not a new concept. First used by the pre-Hispanic peoples of the Andes in 300BC to prevent erosion, this method of gardening has grown in popularity as people are unable to resist its aesthetic – and practical – appeal.
Not only are garden raised beds visually appealing, they also solve all manner of gardening challenges, from drainage to pest control. What's more, they can be built anywhere, from backyards to balconies and rooftops so even if there isn't a crumb of soil in sight, you can still have the garden you've always dreamed of.
Get creative with your outdoor space
Introducing garden raised beds is a great way of injecting some variety and character into your garden.
As well as introducing height, they can be used to make a stunning centrepiece. Why not put your favourite flowers on a pedestal for all to see, or even better, create a multi-tiered statement bed that will have your green fingered friends in awe.
Almost any material can be used to create garden raised beds so long as it provides the necessary drainage.
However, new or reclaimed railway sleepers work particularly well, emanating rugged charm and character. You can really stamp your own personality on your outdoor space with just a little imagination!
Garden raised beds are also the perfect way to organise your garden. Not only do they keep your plants and shrubs tidy, preventing soil spilling out onto the bordering path or gravel, but the space between them creates delightful natural walkways.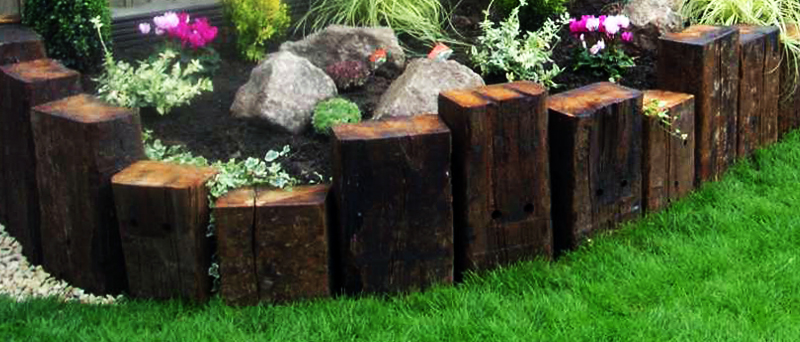 Practical benefits of garden raised beds
Most people invest in garden raised beds for their aesthetic qualities but did you know there are lots of practical reasons for using garden raised beds too. You can control soil quality for a start and never again be burdened by chalky, acidic or weed riddled soil. Garden raised beds are also a fantastic way of introducing a different soil type into your garden so you can enjoy a wider range of plants.
Raised beds also prevent soil compaction which means better root quality and drainage. Plus their elevated position will make it harder for those pesky slugs and snails to dine out on your vegetable patch.
And for those super eager gardeners who count down the days until the planting season begins, you'll be pleased to know that garden raised beds enjoy a warmer soil temperature due to the improved drainage which means you can start planting earlier in the year.
Improved accessibility
For those gardeners plagued by aching backs and sore knees (so probably most of us), garden raised beds also allow for a much more comfortable and enjoyable gardening experience. So throw away your knee pads and say hello to a healthier lifestyle!
On the flip side, Garden raised beds can also restrict accessibility where desired and prevent the kids, pets and other garden visitors from either trampling or feeding on your lovingly grown vegetables or flowers!
Conclusion
So whether you want to make a bold statement or simply grow perfect strawberries, garden raised beds are an ideal solution to many common gardening problems.
You can create a show-stopping, multi-tiered flower bed to wow your family and friends or build a charming vegetable patch to enjoy on the weekends.
The opportunities really are endless!