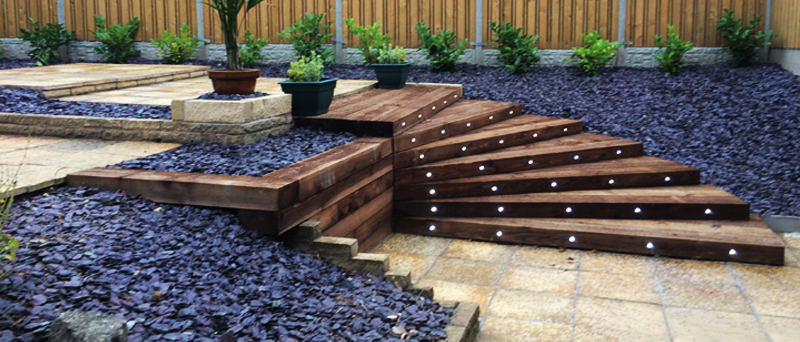 New and reclaimed railway sleepers are much more than just ageing chunks of wood. With beautiful colours and rustic charm they have bags of creative potential for special features both in and out of the garden. Durable and versatile, this 'wonder wood' has become the darling of the landscape gardening world, providing paving solutions, rustic garden furniture and impressive planters. But it doesn't have to end there. With a myriad of different uses, new and reclaimed railway sleepers have the potential to transform your garden into the oasis you've always dreamed of. The only limit is your imagination so here are some ideas to get you started…
'Zone' your garden with new and reclaimed railway sleepers
We often talking about 'zoning' our homes to create separate areas for eating and relaxing, however we rarely apply this principle to our gardens. But new and reclaimed railway sleepers are the perfect material for sectioning off areas to make the most of your outdoor living space.
For example, you could lay varying lengths of sleepers horizontally to create a rustic wooden patio, or sink short vertical lengths to create a low fence that will serve as a protected play area for the kids. Create sculpture-like screens for the bins – or the neighbours – and use raised beds to create a designated herb and vegetable patch.
And you know that spot that always gets the last of the summer evening sun? Well imagine yourself sipping a glass of red wine sitting on a charming wooden bench beneath a beautiful pegoda in that very spot – all made using new and reclaimed railway sleepers!
And as for accessing your different 'zones', sleepers also make perfect borders to line paths or stepping stones which can guide you around your horticultural masterpiece. You won't want to step inside the house ever again!
How to transform a small space
New and reclaimed railway sleepers can transform the smallest and most uninspiring of spaces into the outdoor haven you've always dreamed of with a little creativity. Take a small back yard for example; stack new and reclaimed railway sleepers horizontally around the edges of your yard to create waist height wooden planters and fill them with beautiful flowers and greenery. New and reclaimed railway sleepers can also make impressive outdoor feature walls to lift a small enclosed space. Add a couple of rustic sleeper benches and a central water feature and hey presto, you have yourself an attractive mediterranean style courtyard garden.
Create play areas for the children
During the summer months the garden often becomes the most frequented area for children so why not create a space that will feed their imagination and keep them entertained for hours! New and reclaimed railway sleepers make excellent climbing frames, swings and dens. Short lengths sunk into the grass or gravel serve as perfect stepping stones for little feet to explore, weaving between the plants and shrubs. Use sleepers to create a butterfly farm, a sandpit or even a maze for the grandchildren. Your only challenge will be enticing them indoors at teatime!
Chunky furniture made easy
The creative potential of new and reclaimed railway sleepers doesn't stop outside in the garden. This rustic, natural material is becoming increasingly popular with furniture makers. With just three lengths of wood – one long and two short – you can create a shoe bench with more character than any shop bought equivalent. The wood can be stained, painted or left in its natural state to achieve the desired effect.
New and reclaimed railway sleepers also make excellent chunky coffee tables, dining tables and TV stands. They can be used as fire surrounds, mantlepieces or shelves. The possibilities really are endless.
Time to get creative with new and reclaimed railway sleepers!
With so much creative potential, new and reclaimed railway sleepers are the answer when it comes to giving your garden – or home – a facelift that won't break the bank. Whether you use new sleepers with delicious crisp lines to make a statement, or reclaimed sleepers that blend seamlessly into the natural surroundings, there's no doubt this 'wonder wood' will make your garden design dreams come true.