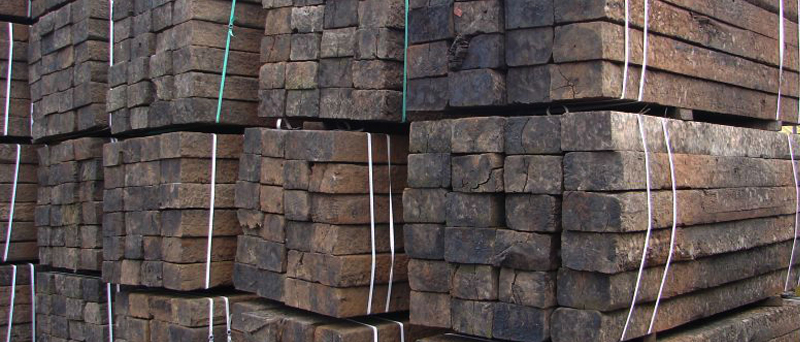 For more than a century wooden railway sleepers have been quietly supporting thousands of miles of train tracks running up and down the country.
However, in recent years as manufacutring methods have changed and concrete blocks have taken their place in track upgrades, the humble wooden railway sleeper has come into its own as an alternative building material .
It caught the eye of the landscape gardening world who saw design potential in these practical, yet rustically charming hunks of timber so long ignored.
Now the reclaimed railway sleepers market is huge as green fingered folk line up to fill their gardens with raised flower beds, borders and and garden benches all made with this wonderfully versatile building material.
Add charm to any garden with reclaimed railway sleepers
Hardwearing, natural and of full of character, it's not hard to see why reclaimed railway sleepers have gained such huge popularity among landscape gardeners and homeowners across the country.
They can be laid singly to create an instant border, or stacked easily to make decking, fence panels or garden steps.
Whether you're aiming for a traditional country cottage feel or would like to create a more contemporary garden, reclaimed railway sleepers are a cost effective way to add character to any space.
A cost effective building material
But why stop at garden planters and benches? For the more adventurous out there reclaimed railway sleepers can make excellent building materials for summer houses and garden offices.
With their rustic appearence you can create a structure that nestles unobtrusively among the trees and shrubs providing much needed extra living space not to mention giving your garden the wow factor that will have the neighbours talking.
Different types of reclaimed railway sleepers explained
With so much choice it's important to identify the right type of sleeper for your garden project. There are four main types of railway sleeper to consider:
Reclaimed Untreated – These sleepers are typically made from tropical hardwood and are not treated due to their naturally hardwearing characteristics. Their durability makes them perfect for use in garden paths, steps or decking areas which will need to withstand a higher volume of traffic.
These products are available Graded to a Grade 1, Grade 2 and Grade 3 in standard. Please see our Grading page here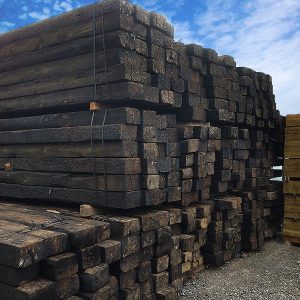 Reclaimed Treated – Usually made from softwood, these sleepers have been treated with creosote and therefore would not be suitable for children's play areas, or garden furniture where people might come into contact with them frequently.
They are, however, a perfect choice for borders and raised flower beds, with their darker hue providing a more earthy ambience which blends well into the natural surroundings.
These products are available Graded to a Grade 1, Grade 2 and Grade 3 in standard. Please see our Grading page here
What if you dont want a reclaimed Railway Sleeper..
If you would prefer a new product then they come in two main varients.
New Untreated – These are cut from sleeper grade material and have straighter edges giving a crisper, more contemporary finish. Made from woods such as oak, larch and douglas fir, these sleepers are incredibly long lasting and versatile so can be used in a wide variety of projects from planters to garden furniture and even summer houses.
New Treated – Made from softwood, these sleepers are pressure treated with preservative (either green or brown) to ensure longevity. In time (12 – 18 months), they will weather to an attractive silver grey colour, adding charm and character to any garden. These sleepers would be perfect for children's play areas as the treatment is completely safe.
Transform your garden today!
Whether you're a landscaping business looking for something creative to offer your customers, or a homeowner searching for inspiration to invigorate a tired looking garden, reclaimed railway sleepers could provide the answer. With a multitude of purposes this appealing yet practical building material is cost effective and easy to use. So what are you waiting for? Transform your garden today!