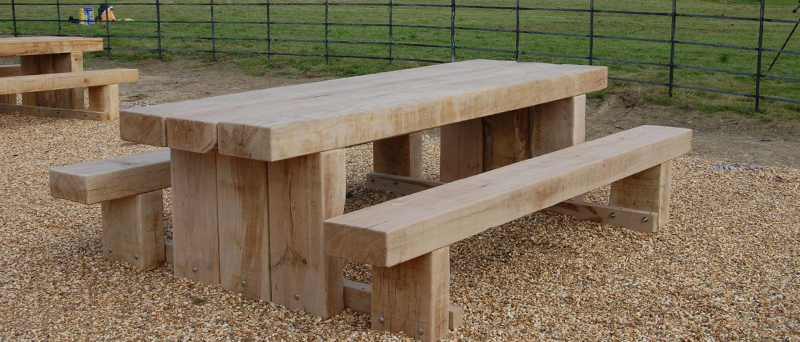 At a time when brand new off-the-shelf furniture has been eschewed in favour of something with charm and a story to tell, sleeper furniture has soared in popularity.
Strong, consistently sized and with just the right amount of character, this versatile building material has been slowly edging its way from the garden into our homes as furniture makers spot the potential that gardeners clocked long ago.
The beauty of sleeper furniture is its simplicity. With some basic woodwork skills and a little imagination, beautiful, rustic furniture can be created relatively easily, making it just as accessible to DIYers as professionals.
New oak for sleeper furniture
Reclaimed railway sleepers lifted straight from the tracks are treated with creosote making them unsuitable for sleeper furniture, however new oak sleepers are a great alternative.
Cut from sleeper grade material, this naturally long lasting timber is distinctive and full of character making it the perfect choice for everything from garden benches to dining room tables.
Each sleeper is unique with the odd knot and individual markings so you are guaranteed to have a one-of-a-kind piece of sleeper furniture. And what could be better than that!
Outdoor furniture
Railway sleepers are the ideal material for garden furniture as their earthy, rustic appearance ensures they blend perfectly with the natural environment.
In time, new oak sleepers will change colour to a silvery grey with the bleaching effect of the sun, making them an even more beautiful feature to have nestled among your plants and flowers.
A simple garden bench can be knocked up with just three lengths of sleeper timber – one long piece for the seat and two shorter pieces laid on their ends to act as legs.
If you're feeling more adventurous, you could make a garden table by laying three sleepers horizontally side by side for the top and using four half length timbers as table legs.
This style of raw, chunky sleeper furniture is perfect in an outdoor setting and will instantly transform a patio or courtyard.
Indoor furniture
When it comes to inside the home, the strong, chunky characteristics of new oak railway sleepers make them perfect for creating large, rustic pieces of furniture such as dining tables, bed frames and side tables.
As with the garden furniture described above, they are easily constructed by stacking and screwing lengths together.
You can retain their naturally textured surface for a country farmhouse-chic finish or sand them smooth for a cleaner, more contemporary look.
They can be stained, painted or left in their original colour, it's really up to you – keep it simple, or get creative. For example, you could stack varying lengths of sleeper side by side vertically to make an impressive sculptural bed head.
Or use sections of sleeper to create a coffee table with a beautiful top full of character.
Endless possibilities
Whatever your style, this naturally stunning raw material has endless possibilities when it comes to sleeper furniture.
Affordable and timeless, there is no better way to create bespoke furniture for your home, so have a look through our gallery for some inspiration and start planning your sleeper furniture project today!