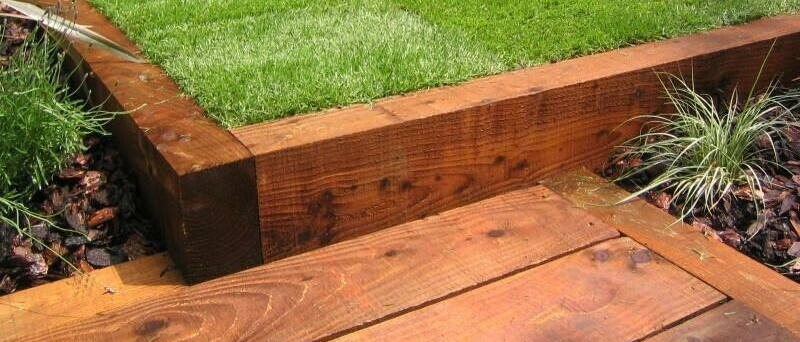 Whatever the size and style of your garden, new treated sleepers can completely transform an outdoor space.
Whether you have a gloomy back yard, a postage-stamp-size patch of grass or a wild, untamed garden, the versatility of new treated sleepers means there is something for everyone. With crisp, clean lines, new treated sleepers can both make a statement and offer practical garden solutions.
They also come in a variety of sizes and colours to suit every project and taste.
No wonder the railway sleeper market is booming!
Practical and versatile
Unlike reclaimed railway sleepers which are lifted straight from the tracks, new treated sleepers are more uniform in size and have a clean, modern look.
They can also be cut to a variety of sizes, including boards, and can be planed and bevelled to ensure they are completely splinter free which is handy for garden furniture projects and children's play areas.
Being made of softwood, new treated sleepers are also lighter so much easier to maneuvre which is a major perk, particularly for DIY gardeners who have taken on an ambitious project!
And when it comes to treatment, new treated sleepers are coated in either Tanalith green (which turns a silver grey colour in time) or Tanatone brown (which turns honey brown/grey) as opposed to creosote, so are 100% safe to use in a wide variety of projects including children's sand pits and raised vegetable patches.
Using new treated sleepers to transform a sloping garden
New treated sleepers are also one of the easiest ways to deal with landscaping issues.
Being the owner of a garden anything other than completely flat used to be a homeowner's worst nightmare, but now, thanks to the new and reclaimed railway sleeper trend, it's perceived as an opportunity to create a more interesting, multi-tiered outdoor space.
Infact, some of the world's most beautiful, award winning gardens are mutli-level. Think charming steps meandering between raised flowers beds to reach a bench with a view!
Make a statement
The clean, crisp lines that are characteristic of new treated sleepers make them well suited to creating a contemporary garden. Whether it's a striking pergoda sheltering a modern outdoor dining area for entertaining friends, or a scultpure-like outdoor feature wall constructed with varying lengths of sleepers, achieving the 'wow' factor in your garden couldn't be easier.
Even something as simple as a raised flower bed can add another dimension to the natural environment, providing variety and interest that will make you the envy of your neighbours.
In conclusion
When it comes to home décor, we spend a long time pouring over wallpaper samples, choosing curtains and carefully picking out furniture, yet when it comes to designing our gardens we don't always give it much thought.
And yet from May until September the garden often becomes one of the most used living spaces so isn't it about time we afford it the attention and love it deserves?
With new treated sleepers, transforming your garden couldn't be easier, so what are you waiting for!