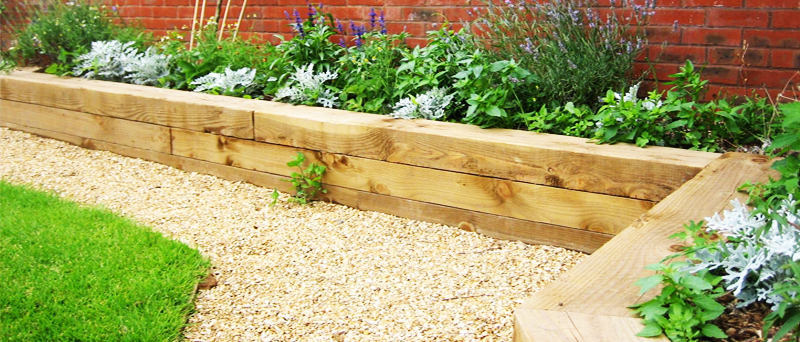 Nothing tastes as good as veggies grown in your own garden, and with summer just around the corner there has never been a better time to create your own raised vegetable beds. Not only are they visually appealing but there are plenty of health, economic and environmental benefits to growing your own fruit and vegetables too.
What's more, they can be built just about anywhere, no matter how small or awkward your outdoor space might be!
Railway sleepers work particularly well for creating raised vegetable beds, providing the necessary structural integrity while also introducing character and charm into your garden. They are simple to construct and can easily be laid by anyone with even the most basic DIY skills to create beds of the desired height.
The benefits of raised vegetable beds
There are many practical benefits to planting your fruit and vegetables in raised beds. You can control soil quality for a start and never again be burdened by chalky, acidic or weed riddled soil. Raised beds also prevent soil compaction which means better root quality and drainage. Plus their elevated position will make it harder for those pesky slugs and snails to dine out on your vegetable patch.
Raised vegetable beds also enjoy a warmer soil temperature due to the improved drainage which means you can start planting earlier in the year. Music to the ears of those eager beaver gardeners who can't wait to tuck into their home grown summer salad!
And when it comes to accessibility, raised vegetable beds really do tick all the boxes. They provide a more comfortable working height allowing you to enjoy the gardening experience free from an aching back and sore knees while also lifting your prized fruit and vegetables safely out of the way of the path of stampeding pets and children. What more could you wish for?
A feast for the eyes
So we've covered the practical benefits of raised vegetable beds, but what about the visual appeal? As well as creating the perfect growing conditions for your fruit and vegetables, raised vegetable beds add interest and variety to an outdoor area.
The spaces between them become charming natural walkways, helping to 'zone' different sections of your garden.
You could use your raised vegetable beds to provide a characterful frame for your patio, for example, or create a secluded corner where you can enjoy your morning coffee in peace. The elevated position of raised beds also dissuades nocturnal visitors from unwanted digging, protecting your crop and keeping the surrounding areas of your garden tidy.
Time to get planting!
In a chaotic world filled with smartphones, tablets, screens and social media, going back to basics and growing fruit and vegetables will feel like a breath of fresh for your mental wellbeing. What's more, it's something children will love to be a part of. There is something satisfyingly wholesome about being able to serve your own home grown food at the family table and by using railway sleepers to create your own raised vegetable beds it really couldn't be easier. So start planning now and create the vegetable garden you – and your stomach – have always dreamed of!