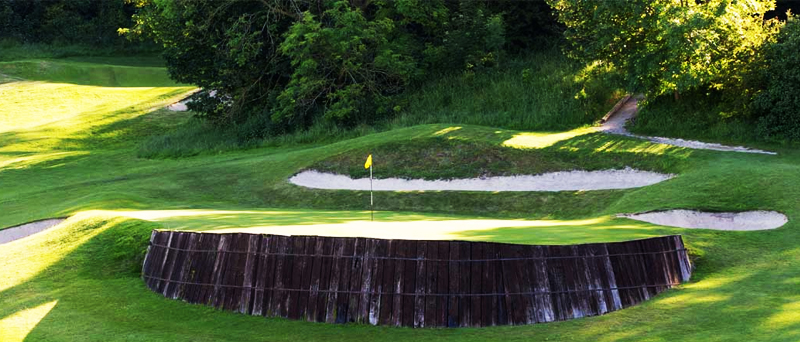 Reclaimed railway sleepers have been used in golf course design for decades and it's easy to see why.
With their rustic, natural appearance allowing them to blend seamlessly into the landscape, railway sleepers are the perfect choice for heavy duty landscaping work that will stand the test of time.
There are many uses for railway sleepers in golf course design and few building materials can match their versatility and aesthetic charm. So whether you have a particular project in mind or if you're just looking for inspiration then read on for our run down of how railway sleepers can transform your golf course design!
Steps, pathways and edging
One of the most common uses that we see for railway sleepers in golf course design is when there is a change in levels on the course. Concrete steps would look incongruous but steps created with railway sleepers look much more natural and in keeping with their surroundings.
Sleepers arguably look better when they are not laid with millimeter-perfect precision meaning that this is a job that can be kept in-house and, more importantly, in budget!
Pathways and edging is another area where sleepers work particularly well in golf course design.
Although a simple self-binding gravel path is a great solution and easy to lay, the material is likely to migrate over time without edging and will start to look untidy. Used as edging, railway sleepers sunk to the required depth will look great and perform perfectly for years to come.
Bunkers and retaining walls
Bunkers are an integral part of golf course design with the busiest and most exposed often proving a challenge for groundsmen to prevent the faces collapsing. Railway sleepers can be used to good effect in these circumstances providing reinforcement for the face where it is most needed .
Ideally suited to the bigger, steeper-faced bunkers it is possible to make a real feature out of full length sleepers at ever more challenging angles, providing your members and visitors with a renewed incentive to keep the ball on the fairway!
Retaining walls are another opportunity to get creative with railway sleepers in golf course design. With their inherent strength and rustic charm, railway sleepers lend themselves perfectly to this use and can be a much cheaper solution than a traditional stone-faced retaining wall.
Drainage gulleys, ponds and bridges
Water features are always a challenge with golf course design and sleepers could be just the solution you have been looking for!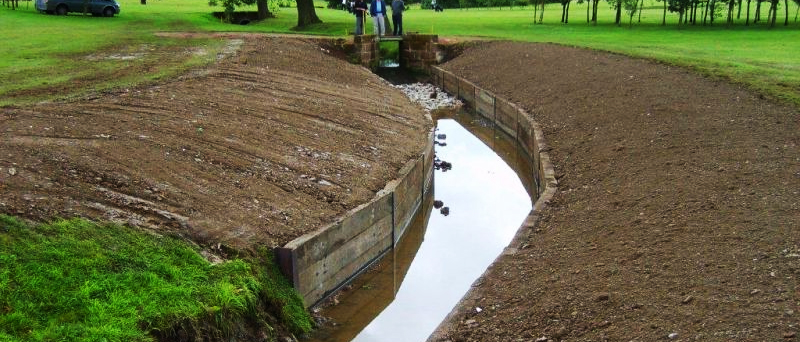 Simple yet charming bridges can be constructed in no time and gulleys and pond banks can be sured up with steel H-beams driven vertically into the ground allowing sleepers to be slotted in easily from above.
The sleepers will look fantastic in situ and results can be achieved quickly meaning less down time for course maintenance.
Tying in golf course design with other club facilities
First impressions count so don't forget to spend a little time on your entrance and car parking facilities. Railway sleepers make perfect edging for car parks and can even be used to demark individual bays.
Raised beds and benches are simple to construct from sleepers and create a welcoming impression with materials that will tie in perfectly with those used elsewhere on the course.
Back at the club house
Our railway sleepers aren't just a great building material for landscaping; they make fantastic furniture too. Stunning, rustic benches and tables that are perfect for the club house can be made by anyone with basic woodwork skills and would not look out of place in a trendy bar or restaurant.
Being made from sleeper-grade material they should stand the test of time in a commercial environment too.
Just remember to order our new oak sleepers for indoor use as our reclaimed sleepers are lifted straight from the tracks and are treated with creosote making them unsuitable for sleeper furniture.